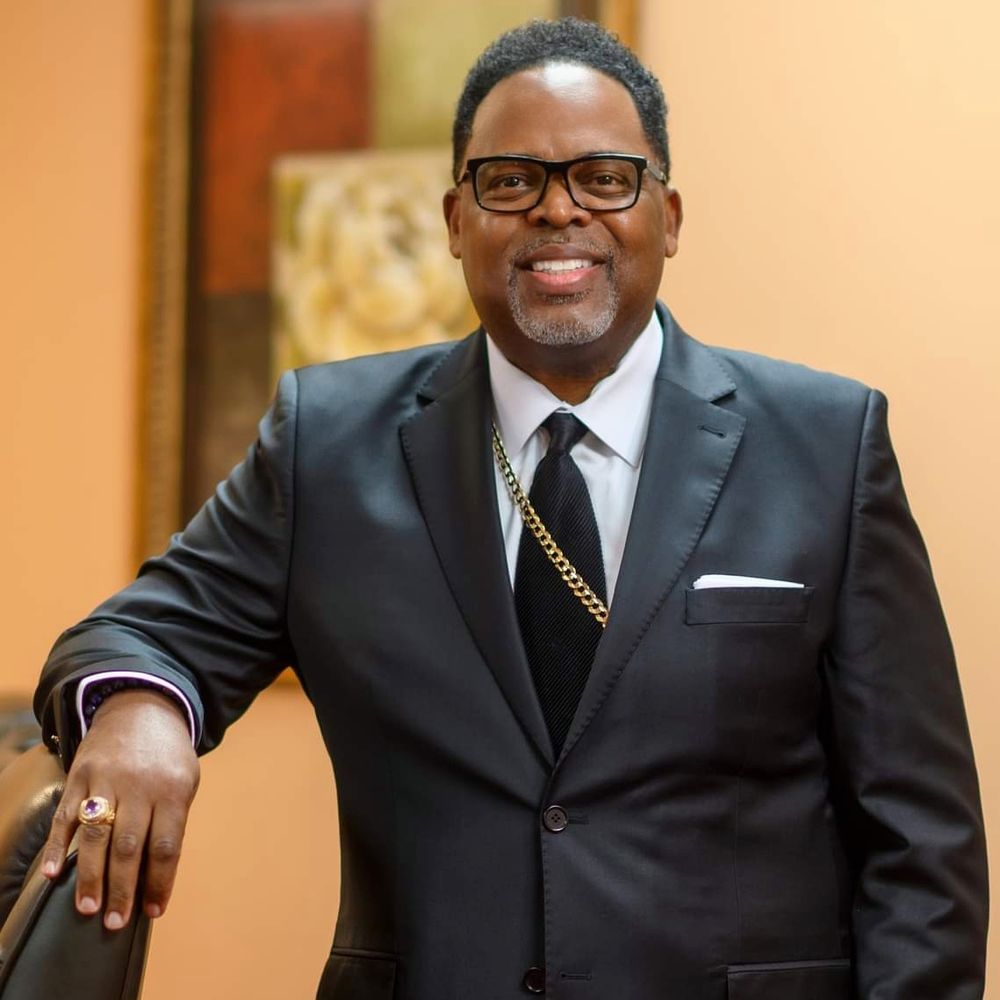 Bishop Destry C. Bell, Sr.
Jurisdictional Prelate
Bishop Destry C. Bell, Sr., was born August 3, 1964, to David Gene and Connie Fay Bell. He is a native of Texas. He accepted Christ in his life at the young age of 16. He answered the call to the ministry at the age of 17 under the leadership and tutelage of the late Bishop A. C. Nelson, Jr.
Because he took the call upon his life serious, he adhered to the scripture II Timothy 2:15, "Study to shew thyself approved unto God a workman that needeth not be ashamed, rightly dividing the word of truth." He pursued his education and attended Calvary Theological Seminary and Cornerstone University. Upon completion, he received his A.A., B. A. in Theology, Master Degree in Christian Counseling, and a Doctorate Degree in Theology.
Bishop Bell has been proclaiming the gospel for 41 years and pastoring for more than 31 years. He is the Senior Pastor and founder of Christ Temple of Deliverance, Church of God In Christ.
During his tenure, he has served in several appointed and elected positions at the jurisdictional and national levels. At the age of 48, he was elected as the Vice-Chairman of the General Council of Pastors and Elders Church of God in Christ, Chairman of the GCPE Executive Committee, and served on the COGIC Community Development Corporation Board appointed by the Presiding Bishop Charles E. Blake, Sr. 
At 53, he was conferred Bishop Designate of Texas Gulf Coast COGIC at the Presiding Bishop and General Board. In November 2017, he was consecrated and installed as Bishop Destry C. Bell, Sr., Jurisdictional Prelate of the Texas Gulf Ecclesiastical Jurisdiction. In November 2018, Bishop Bell was appointed to serve on the Board of Bishop's Grievance Committee as the Committee Secretary and Coordinator for Regional Bishops. In June 2021, he was appointed as the Commissioner of Ecclesiastical Services. He serves as the Vice Chairman of the Texas Inter-Jurisdictional Council of Bishops.
Bishop Bell's experiences include Charles Harrison Mason Bible College Board of Regents, Spring Branch Medical Center's Institutional Ethics Board, and Prairie View A & M University Executive Board for the Annual Minister's Conference. God has blessed Bishop Bell beyond measure. He has an anointing voice with exceptional power and range. In 2008, he was featured as a lead soloist on Kurt Carr's album, "Just the Beginning."
Bishop Bell is complimented within his home and ministry by his enthusiastic and extraordinary wife of nearly 39 years, Lady Reatha Simmons Bell. They have two adult children; a daughter, Shereatha, Houston, Texas, and a son, Destry II, New York, New York. The life of Bishop Bell exemplifies the power of prayer, faith, and obedience.
Bishop Bell's number one priority is saving souls for Jesus Christ and spiritually nurturing those who have given their life to Jesus. Bishop Bell has a God-gifted ability to encourage and bring out the best in others. He proclaims the triumphant faith with messages relevant to a modern experience. To this end, his ministry is unique and is designed to be a contemporary conduit for biblical training, spiritual growth, and personal development.